Tankers for liquid fuels transport
LAG tanker-semitrailer (LGBF) is used to carry liquid fuels. The product offered is allowed for operation in Poland by Transport Technological Inspecting Authority and has an appropriate homologation document.
Tanker specification in 4-chamber version:
Masses:
Skid plate load: 10,000 kg
Axle load: 24 000 kg
Kerb weight: 5350 kg
Lock pin height: 1220 mm
Tank – 4 chamber version (4k):
Capacity in litres
Chambers capacity (95%): 13 000 – 7000 – 4200 – 12 000
Chambers 1. and 4. are equipped in breakwater
Tank made from aluminium, in cylindrical form with narrowing
Upper equipment of every chamber:
Circular hatch (DN 530) with cover and filler hole DN 300 for filling from above.
Pneumatic breathing valve DN 50.
Fire-protection fuse with fumes sealing installation.
Electro-optical anti-spill system.
The tanker charging and discharging system:
Each chamber is equipped in 4" pneumatic bottom valve to which discharge pipeline is connected, pointing to the left side of the tanker.
Left side – aluminium cabinet containing 4 or 5 API couplings for charging and a coupling for vapour recovery system.
Discharge through an installed adaptor 4" API to 3" Kamlock.
Right side – aluminium side shields (optionally another cabinet including measuring system).
Loading from above through holes in the hatches.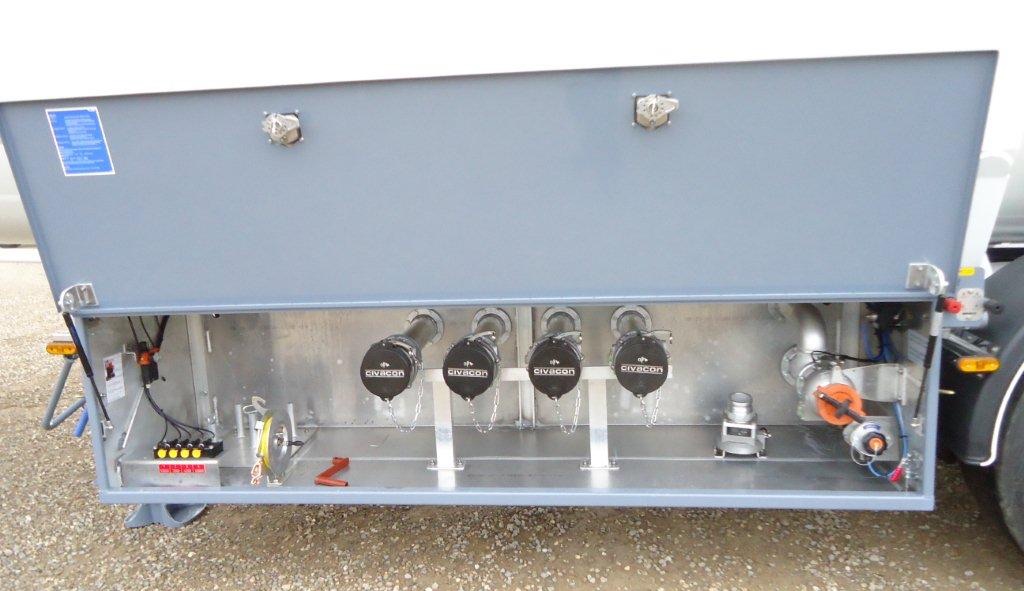 Vapour recovery:
Fire safety device of every chamber is connected to 4" pipeline of the vapour recovery system. The pipeline is extended to the bottom part of the tanker and ends with a coupling installed in the left side cabinet.
Upper service bridge:
Collapsible barrier 1000 mm high along the entire length of the tanker.
Aluminium ladder at the rear of the tanker.
Rolling chassis:
SAE king pin by JOST – 2 inch, skid plate made of steel.
Mechanical landing gear by JOST (two speeds).
Rolling chassis equipped with 3 BPW Eco Plus axles, distance between axles 2×1310 mm, air suspension, semi-elliptic springs made of steel.
Axles equipped with disc brakes (large diameter discs).
Front axle automatically raised by EBS.
6 wheels made of steel 11.75 R 22, 5.
Spare wheel made of steel.
Tyres 385/65 R 22,5 made by Goodyear.
Brakes with aluminium air tank consistent with EEC standards.
Air parking brake working on two axles.
EBS Wabco system, type 2/2 M.
RSS traction stabilising system.
Lighting installation 24 V, 15-pin connector, 8-chamber integrated rear light clusters on the bumper (indicator, braking light, rear light, anti-fog light, reversing light).
On the bumper – 2 parking lights (right and left).
Orange outline lights on both sides of the tanker.
3 pairs of mudguards made of PVC with mudguard flaps.
Rear bumper made of aluminium.
Other equipment:
Grounding connection.
Plate for ADR marking placed in the rear part of the tanker.
2 fire extinguishers, 6 kg each.
2 wheel wedges made of plastic, in containers installed on the left side.
Grounding anti-static strap.
Containers for discharging hoses.
Reflective band on the rear bottom and along the sides.
Paintwork:
Tank – white RAL 9010.
Chassis – grey FLN 7501.